Immunity Booster: Immune Boosting Supplement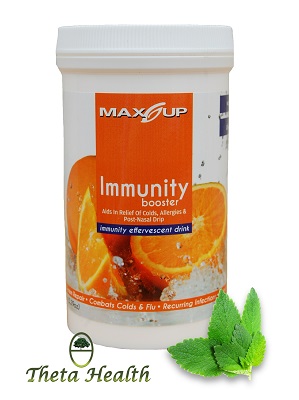 Immune Booster Supplement
225g Powder
ADD TO CART
Immunity Booster is an immune booster supplement that helps to improve your body's immunity and to get rid of health problems caused by a weak immune system.
What does Immunity Booster do?
It a

ids in relief of colds, allergies and post nasal drip




Builds and restores your immune system from within




Relieves joint pain, arthritis and gout




Builds new skin from within to reduce skin disorders




Helps boost energy levels



Immunity Booster can be used for:

Allergies

Gout

Constant Tiredness

Asthma

Tight Phlegm

Anaemia

Colds and Flu

Eczema

Angina / Heart

Joint Pains

Psoriasis

Bacterial Infections

Chest Infections

Cholesterol

Colic
Directions for use:
Place 1 to 2 heaped teaspoons of powder in a glass of water or juice, stir vigorously and drink.

Children: half dosage.
For flu prevention, general immune maintenance or boosting:
take once or twice daily.
For hayfever:
take every hour till symptoms subside, (don't exceed 3 days) then take daily maintenance dosage as needed.
For post-nasal drip, tight chest, bronchitis, colds and flu:
increase dosage to four times daily, till symptoms subside then onto daily maintenance dosage as needed. For chronic or acute cases, also consult with your health care provider for advice on dosage.
Other ingredients:
fructose, orange fruit powder, citric acid, maltodextrin, nature indentical flavour.
Allergens:
free from gluten, yeast, lactose and synthetic colourants.
There are no preservatives or artificial colours.
Ingredients -

Per 7g Serving

Calcium D Pantothenate (B5)






Testimonial
I wou
ld like to thank you for recommending Immunity Booster to me and my family. We have experienced unbelievable results from this product. My two boys, one year old and five-year-old, they haven't been to a Doctor since the beginning of this year, especially my five-year-old whose asthmatic. He hasn't been sick at all. Now we are almost the end of July. You have saved me money, headaches, and sleepless nights with sick children. I will always recommend this product to ev
eryone I know. Thank you so much.
Chrissy - Customer
How A Weak Immune System Can Cause Health Problems
Your immune system has an important function to play which is to protect your body from diseases and harmful substances.
It is made up of several organs within the body that work together to give your body immunity.
The immune system within the body singles out and fights against bacteria, viruses, allergens and organisms that are a threat to the body, and without it or with an immune system that doesn't function well, illness will occur.
Our immune systems have the ability to adapt to new pathogens and evolves to protect your body, but sometimes we need an immune booster supplement, especially if old or have suffered from an accident or illness which puts stress on the body.
You can think of your immune system as your computer's anti-virus software. It is there to detect and destroy viruses and therefore needs to be working as best it can.
Why This Immune Booster Supplement Works
Immunity Booster is an immune boosting supplement that is a targeted product that handles the root causes for the majority of cases of colds, flu and a rundown immune system. It has a range of ingredients all perfectly suited to help restore your immune system to its full fighting strength.

Immunity Booster is a unique immune system booster supplement made from the formulation of vitamins, minerals and amino acids that provides the exact "foods" that the immune system needs to be re-built from within and to function at 100%. It is the only formula that focuses on rebuilding the immune system as the basis for good health. It works to build a large army of warrior cells that can fight and destroy an invasion of germs.
Using Immunity Booster can help restore your immune system and put your health back on track where it should be!
Testimonial
Dear Kareen
, the Immunity Booster was incredible. I was ill and under enormous pressure and also not sleeping. If it wasn't for the Immunity Booster I think I would have literally collapsed! I bought some for a colleague of mine who was in the same boat and we both are now enthusiastic converts.
Veronica - Customer
Testimonial
I have been v
ery ill for the last 9 months to 1 year.. spent lots of money on doctors and tests…. I was getting so thin and kept losing weight, had no appetite and could hardly function, my body and face was full of sores and I was so itchy all the time, could hardly sleep at night, my body ached and I thought that I had some sort of creature eating at my legs and face, and was so sore all the time. I was a nervous wreck and couldn't do anything, my friend told me to go to a Homoeopath and get help, so I did and I went to a wonderful homoeopath in Broad acres, she did a few tests on me and said I had Adrenal burn-out, and put me on IMMUNITY BOOSTER powder, that's all. I have been taking it for 2 months now and have at last started to feel like I am back on the earth. My sores have all cleared up and my skin is looking much better, I have started getting my appetite back and my nails and hair have started growing again. I just wanted to say thank you for a wonderful product and for helping us.
Pamela - Customer